About MCV
Mars Cats Voyage was created by three friends, passionate about innovation, art and the NFT sphere. Our IRL cats inspired us to launch MCV. After several concept designs we created the MCV collection and gathered a huge community around our project. Join!
How It Started
Captain Drew and Mike are childhood friends, they studied art together. Later they met Lesh and partnered on several IT projects. In 2021 they dived into NFTs, discussed lots of ideas and concepts and having lots of enthusiasm for design and tech they came up with the concept of Cats voyaging to Mars.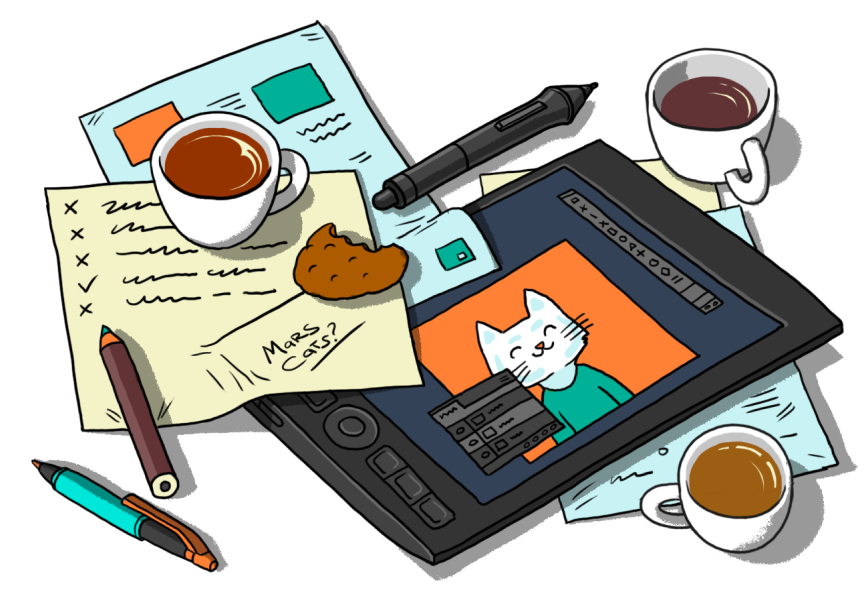 Mars Cats Specs & Facts
All cats are fantastic and ready for the voyage to Mars!
Mars Cats Voyage (MCV) is a collection of 10,000 unique NFT tokens issued on a smart contract (ERC-721) on the Ethereum blockchain.
We are for a fair price launch, that's why the initial price was the same for all 10.000 space cats — 0.05 ETH.
The uniqueness of cats is confirmed by a smart contract (ERC-721) on the Ethereum blockchain.
We care about our Mars Cats. That's why 1.5% of secondary sales is reserved for the Community Fund.
Soon we are launching our first NFT-based game for MCV holders!
Soon we will airdrop an additional collection of Alien Cats to the space team (after we reach 4999 holders of the initial MCV collection or when we pass a special milestone in the game storyline).
The Road to Mars
1

Buy yummies for our IRL cats

2

Launch the SST (space suit token) claiming option for our holders (members of the Space Team)

3

Launch a unique merchandise store for space team members

4

Create a PFP/Banner maker tool on our website, available only to MCV holders

5

Launch MCV Community Fund v 1.0

6

Develop a NFT-based game for all MCV owners

7

Airdrop the Alien Collection NFTs to all OG MCV owners (after completing the initial game storyline or after reaching 4999 unique holders of the OG collection)

8

Plan to build a colony on Mars after the successful completion of previous steps

9

Consider building out the foundations of a potential MCV-Metaverse
FAQ
Q: What is Mars Cats Voyage?
The first limited collection of unique NFTs, in which cats set off to build a colony on Mars, and giving their owners the chance to take part in the adventure and their discoveries.
Yes, absolutely! Each Mars Cat is unique and specially selected to participate in the expedition. Mars cats are generated algorithmically from 220 unique traits, such as hairstyles, accessories, clothing, and much more. All cats are amazing looking and ready for space flight. Some are also incredibly rare.
Q: What was the presale price for a Mars Cat?
0.05 ETH + gas (no bonding curve or FOMO pricing).
Q: When did the sale start?
Q: How do I actually purchase a Mars Cat?
Mars Cats are available to purchase on OpenSea. Download the Metamask extension for Google Chrome. Buy Ethereum (ETH) on an exchange like Coinbase, Binance, PayPal, etc, and send it to your Metamask ETH Wallet Public Address. Click "Buy a Mars Cat" on our website or go directly to OpenSea and log in your Metamask Wallet by clicking on the Chrome extension icon at the top-right of the browser (it looks like a Fox). Choose the Mars Cat you love and join the voyage!
Q: What are Spacesuit Tokens (SST)?
The First 3000 Mars Cats Voyagers (token owners) are able to claim the Spacesuit Token (SST) for free. Plus we have distributed 333 more spacesuits to the space team randomly. SST claiming: This is an additional interactive feature on our website that provides the ability to upgrade your cat with a spacesuit. You can choose one of 15 custom designed spacesuits and mint an additional NFT in a separate, yet related collection, or you can mint a "packed spacesuit" to save for another time or another cat, or even sell it.
Q: Do you plan to have other collections in the future?
Yes, the space journey is unpredictable. Mars Cats are going to meet some Aliens on Mars! And we are regularly updating Mars Cats Collabs and Mars Cats Specials collections with new custom drops. Much more is coming!
Aliens Cats is a separate collection of unique NFT tokens, 10K of which will be airdropped to our holders randomly after we hit the target of 4999 unique holders of the initial MCV collection or get through the first installment of the game and its storyline. As more Mars Cats play the game we get to this stage faster!
Join the Voyage!
The first limited collection of unique NFT tokens, where cats are colonizing Mars and giving their owners to be part of this adventure.